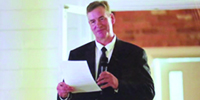 John has smashed his wedding speech goals!
John has aphasia (an impairment of language that can affect speech, comprehension and the ability to read and write) as the result of a stroke.
For aphasia, a speech pathologist can assess the strengths and weaknesses of the person's speech and language skills. Through speech therapy, the person learns new skills and compensatory strategies to communicate.
John worked hard on his speech for months, under the guidance of Sue his Speech Pathologist to deliver a wedding speech at his son's wedding.
John was so proud of his achievement and wanted to share his success with us and others. We were so delighted to hear of John's success.